BIG BREAKING / Today's Junior Clerk exam canceled, decision taken due to paper leak
Today's Junior Clerk Exam postponed
Exam canceled due to paper leak

A person was arrested with the question paper
Gujarat Panchayat Seva Selection Board Junior Clerk Exam to be held today has been postponed. The exam has been canceled after a person was arrested with the question paper of the exam. OJAS Gujarat Provides to u full details.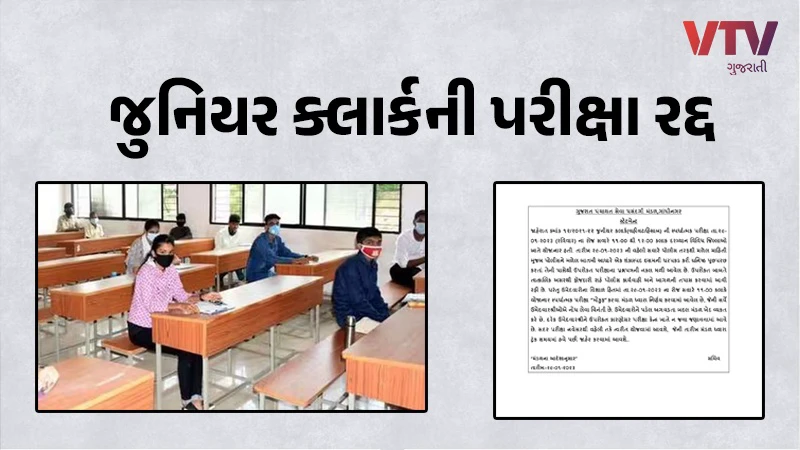 The association has appealed the candidates not to go to the examination center today.
The examination was to be held at 2,995 examination centres
The Junior Clerk recruitment exam was to be held today at a total of 2,995 examination centers in the state. But suddenly it has been decided to cancel the exam due to the paper leak of this exam. The Junior Clerk exam conducted by the Panchayat Seva Selection Board has been canceled after the paper was leaked. A circular in this regard has also been released by the Gujarat Panchayat Service Selection.
Gujarat Panchayat Service Selection Board released circular
As mentioned, the competitive examination of Junior Clerk (Administration/Accounts) was to be held on 29-1-2023 (Sunday) from 11 am to 12 am at various districts. According to the information received from the police in the early morning of 29-01-2023, on the basis of the information received by the police, a suspect Isam was arrested and a copy of the question paper of the above examination was found from him after close interrogation. Criminal police action and further investigation are being conducted in the above matter with immediate effect. But in the larger interest of the candidates, it has been decided by the board to 'postpone' the competitive examination to be held on 29-01-2023 at 11-00 AM, the said examination will be held afresh at the earliest, the date of which will be announced by the board shortly. will come
9.53 lakh candidates applied
The examination was to be held between 11 am to 12 am in all districts except Gir Somnath of Gujarat. 9 lakh 53 thousand 723 candidates applied for this exam. It was said by the Gujarat Panchayat Seva Selection Board that 100 percent live recording including CCTV cameras will be done at all examination centers and in all classrooms. Also, 42 strongrooms have also been prepared at various districts to keep the sealed materials of the examination. 24X7 armed police presence and CCTV cameras have been installed in the strongroom. About 70,00 staff, including 7500 police personnel, will be deployed to conduct the examination at all the districts. As many as 291 flying squads consisting of armed police and senior officers have been deployed across the state for the purpose of conducting the examination with adequate security and vigilance. A total of 939 routes have been created to deliver examination oriented sealed material from district strongrooms to examination centres. And every route vehicle will be dispatched by a route supervisor under armed police escort.